RADOSTb Band
Dear Friends and music lovers. Welcome to the musical life «Radostb Band» group
«Radostb Band» created at the end of 2008 having. The goal of this project is to attract russian society's attention to music issues in the world
In its music the band has implemented different types of uneven – tempered tunings, based on combination of classical Indian and ancient European music system
Thanks for visiting us!
RADOSTb Orchestra
«Radostb Orchestra» is a musical group that plays modern music, carrying a new understanding of the sound of the orchestra: with rock fusion tones, original sound effects and non-standard rhythms
The musicians state: "The ensemble was formed in 2022, but we changed the pace and got together early to launch this spaceship to travel to new stars that appear out of nowhere, just like the «Radostb Orchestra» itself." :)
RADOSTb Music - Community of Musicians
The main purpose of the community is to create and to praide the opportunities and to form a positive impact of new conceptual Russian music on people. The project was created jointly with the Indian musician and master - guru Radheeshyam Sharma
New Russian Music epresents the evolutionary body of knowledge in the field of contemporary music, based on the analysis of the cultures of different peoples, their music systems, theories and practices based on to the Western musical system and combined with new scientific developments
In today's world, people become more sensitive and receptive to the sound organization of the space around them and modern culture must meet both physiological and psychological requirements of a person
«RadostbBand» is the first and only Russian music band that has openly disclosed the matters of the equal temperament in music while implementing both new knowledge and approaches of the modern music listener. The band was formed in the year of 2008 and performed concerts & musical master classes in different cities of Russia. In 2013, the musicians presented their concert program at the international musical NAMM Musikmesse Russia
Press About
"Radost was formed at when several Russian musicians started to analyse contemporary trends in music and explored ways of developing a new musical culture. Today the Radost's experience is enriched with flavours and nuances of other musical cultures, and they consciously use musical elements that an European listener hasn't heard for several centuries."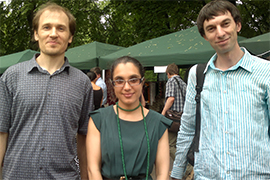 "The ensemble was formed by russian musicians, who take part in numerous musical projects, including cooperation with Oleg Lundstrem Big Band and other world famous musicians, playing different genres & styles, and playing in bands performing pop music."